Feng Feng Biotechnology
Address: Nanjing city Liuhe District Changlu street Nanjing road six
Website:www.njzefeng.com
Tel:18851912129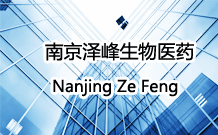 Nanjing Ze Feng biological medicine technology Co., Ltd. is a company engaged in research and development, production and sale of chiral compounds and pharmaceutical intermediates of high-tech enterprises. The company was founded in 2017, the company has experienced R & D team, overseas returnees and senior management personnel and business management, the team has a strong technological advantage in chiral compounds and some other drug development and other fields, and has extensive experience in enterprise management. The company is responsible for R & D and amplification of cardiovascular and cerebrovascular drugs and anticancer drugs, chiral compounds and drugs and their active intermediates, and has a sound R & D system and production conditions. Since its establishment, the company has developed rapidly. It has dozens of R & D team.
Nanjing Feng Ze Biological Pharmaceutical Technology Co. Ltd. to build the domestic well-known enterprises, to create a world-class brand "as the goal, adhere to scientific and technological innovation and development concept, to promote the harmonious development of man and nature, and strive to build a green, environmentally friendly, healthy lifestyle.
The products listed in our company involve patents, which are for R & D use only, and not for sale. The controlled products will be strictly sold according to Chinese law and the laws of the client countries.